Valeriana dioscoridis, Valeriana italica, Italian Valerian,
Hebrew: ולריינה איטלקית, Arabic: ناردين، أصابع الراعي

Scientific name:

Valeriana dioscoridis Sm.

Synonym name:

Valeriana italica Lam.

Common name:

Italian Valerian

Hebrew name:

ולריינה איטלקית

Arabic name:

ناردين، أصابع الراعي

Family:

Valerianaceae, ולריניים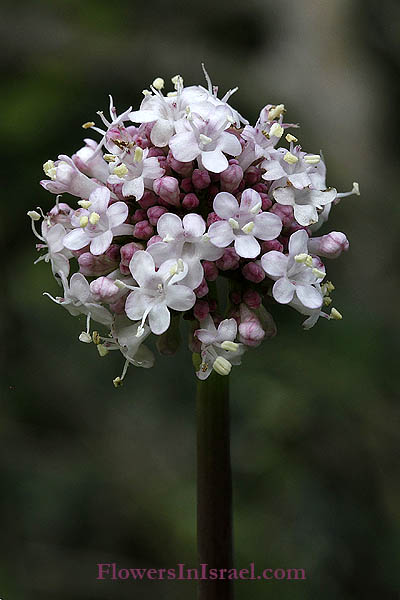 Life form:

hemicryptophyte

Stems:

90-120 cm tall; round, grooving, hollow, and terminated with flowering branches, disposed crosswise

Leaves:

The leaves are larger at the base of the stem, decreasing in size towards the summit; Opposite, rosette, compound, pinnate or bipinnate, pinnate, smooth margin

Flowers:

small, in corymbs, odorous, and interspersed with lanceolate, connate, bearded, waved, pale bractes; the calyx is a slight margin at the top of the germen: the corolla tubular, white with a shade of pink, divided at the margin into five reflected, obtuse segments: the filaments are spreading with the corolla, and support round, yellowish, anthers: the style is shorter, with a trifid stigma

Fruits / pods:

Homogeneous seeds-fruits; capsule with feathery pappus, purplish at the base; contains one oblong, ovate, compressed seed

Flowering Period:

February, March, April

Habitat:

Hard rock outcrops

Distribution:

Mediterranean Woodlands and Shrublands, Semi-steppe shrublands, Montane vegetation of Mt. Hermon

Chorotype:

Mediterranean

Summer shedding:

Ephemeral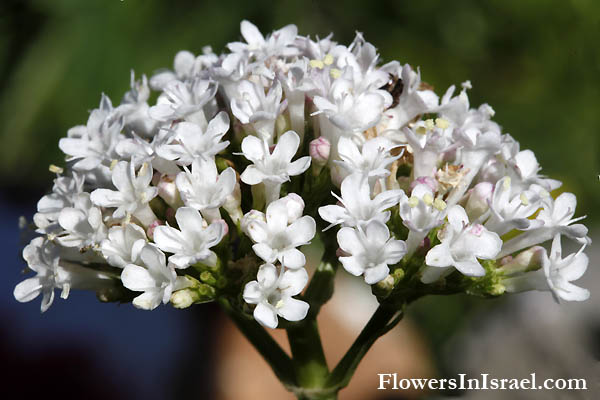 Derivation of the botanical name:
Valeriana, possibly from Latin valere, to be strong, or from Valerius, a Roman family name, or from Valerus, the name of a Roman king.
dioscoridis, to commemmorate Pedanius Dioscorides (Greek: Πεδάνιος Διοσκορίδης; ca. 40 - ca. 90), an ancient Greek physician, pharmacologist and botanist from Anazarbus, Cilicia, Asia Minor.
italica, Italian.
The Hebrew name: ולריינה, valeriana, transliteration from the European language.
The standard author abbreviation Sm. is used to indicate James Edward Smith (1759 – 1828), an English botanist and founder of the Linnean Society.
The standard author abbreviation Lam. is used to indicate Jean-Baptiste Pierre Antoine de Monet, Chevalier de la Marck (1744 – 1829), a French soldier, naturalist, academic.
Hippocrates (460-370 BCE), father of modern medicine, used a kind of valerian as medicine.
Theophrastus of Eresos (370 - ca. 285 BCE), the best-known ancient naturalist and student of Aristotle (370-286 BCE) mentions Valeriana dioscoridis: "which has a smell like spikenard" as being used for perfume. The spikenard of the ancients is another member of the Valerian family, Nardostachys jatamansi.
Dioscorides (ca. 40-ca. 90), a physician in Nero's army and the originator of the Materia Medica (54-68 CE) mentions several members of the valerian family--Indian, Syrian, Celtic and mountain Nard (Nardostachys jatamansi or Valeriana hardwickii, Patrinia scabiosaefolia, Valeriana celtica and Valeriana tuberosa) and Latin phu or phun (Plinius) and Greek phou, which is considered to be Valeriana dioscoridis.