Valerianella vesicaria, Valerianella locusta var. vesicaria,
Bladder Corn Salad,
Hebrew: ולריינית משולחפת, Arabic: خَسّ النَّعْجَة

Scientific name:

Valerianella vesicaria (L.) Moench

Synonym name:

Valerianella locusta var. vesicaria L.

Common name:

Bladder Corn Salad

Hebrew name:

ולריינית משולחפת

Hebrew name:

خَسّ النَّعْجَة

Family:

Valerianaceae, ולריניים
Life form:

Annual

Stems:

5-10cm; hairy; tufted spreading

Leaves:

Opposite

Flowers:

Hermaphrodite; symmetrical cyme; 6 yellow, green sepals; corolla tubular, 5 white, lilac petals

Fruits / pods:

Swollen hairy achene; dense clusters, with 3 loculi among which only one is fertile

Flowering Period:

March, April

Habitat:

Batha, Phrygana

Distribution:

The Mediterranean Woodlands and Shrublands, Semi-steppe shrublands, Shrub-steppes, Deserts and extreme deserts, Montane vegetation of Mt. Hermon

Chorotype:

Med - Irano-Turanian

Summer shedding:

Ephemeral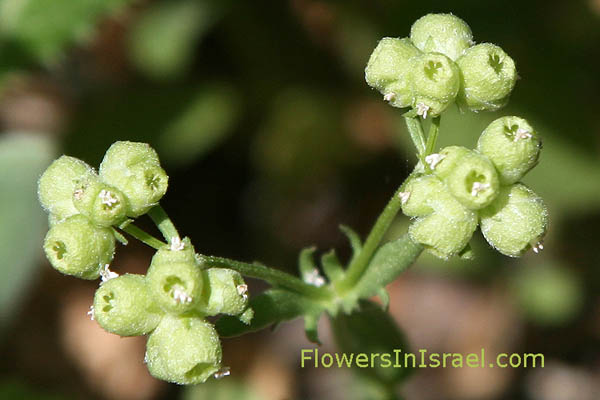 Derivation of the botanical name:
Valerianella, Diminitive of Valeriana, from the resemblance to Valeriana of these herbs; valere, "to be healthy"
vesicaria, vesica, a bladder; bladder-like; from the inflated pods following the flowers on these herbs.
The Hebrew name: ולריינית, valerianit, from the European language.
The standard author abbreviation L. is used to indicate Carl Linnaeus (1707 – 1778), a Swedish botanist, physician, and zoologist, the father of modern taxonomy.
The standard author abbreviation Moench is used to indicate Conrad Moench (1744 – 1805), a German botanist.