Verbascum berytheum, Verbascum bulbosum, Beiruth Mullein,
Hebrew: בוצין בירותי, Arabic: البوصير البيروتي
Scientific name:

Verbascum berytheum Boiss.

Scientific name:

Verbascum bulbosum Ehrenb. ex Boiss.
.

Common name:

Beiruth Mullein

Hebrew name:

בוצין בירותי

Arabic name:

البوصير البيروتي

Family:

Scrophulariaceae, לועניתיים
Life form:

Hemicryptophyte

Stems:

Up to 100cm; covered with simple hairs

Leaves:

Rosette, simple, alternate

Inflorescence:

Terminal racemes

Flowers:

Yellow, short tube, 5-lobed, stamens 4 or 5, filaments villous

Fruits / pods:

Capsule septicidal, numerous seeds

Flowering Period:

April, May

Habitat:

Loam soil in the coastal plain

Distribution:

The Mediterranean Woodlands and Shrublands

Chorotype:

Mediterranean

Summer shedding:

Perennating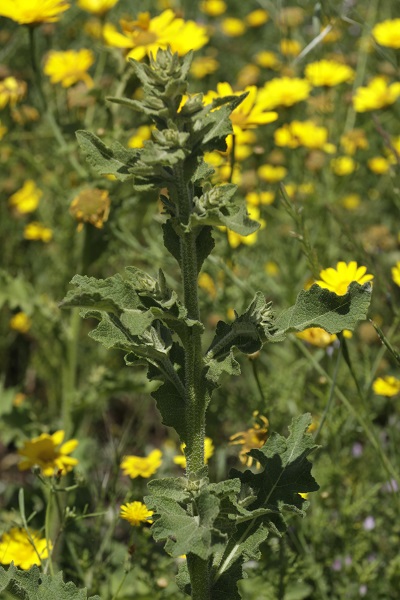 Derivation of the botanical name:
Verbascum, mullein; corrupted form of barbascum, from the Latin barba (a beard), in allusion to the shaggy foliage; the ancient Latin name for this plant.
berytheum, Beirut, Lebanon.
Mullein from Anglo-French moleine (French moulaine), perhaps literally "the soft-leaved plant," from French mol "soft," from Latin mollis "soft."
The Hebrew name: בוצין, busin, Aramaic בוצינא, būṣīnā, a wick, a lamp, because of the shape of the flower.
The standard author abbreviation Boiss. is used to indicate Pierre Edmond Boissier (1810 – 1885), a Swiss botanist, explorer and mathematician.
The standard author abbreviation Ehrenb. is used to indicate Christian Gottfried Ehrenberg (1795 – 1876), a German naturalist, zoologist, comparative anatomist, geologist, and microscopist.
Verbascum berytheum is an endangered species endemic to loam soil in the coastal plain in Israel and Lebanon.