Verbesina encelioides, Ximenesia encelioides,
Golden Crownbeard, Butter Daisy,
Hebrew: כנפון זהוב, Arabic: زهرة الشمس

Scientific name:

Verbesina encelioides (Cav.) A.Gray

Synonym name:

Ximenesia encelioides Cav.

Common name:

Golden Crownbeard, Butter Daisy

Hebrew name:

כנפון זהוב

Arabic name:

زهرة الشمس

Family:

Compositae / Asteraceae, מורכבים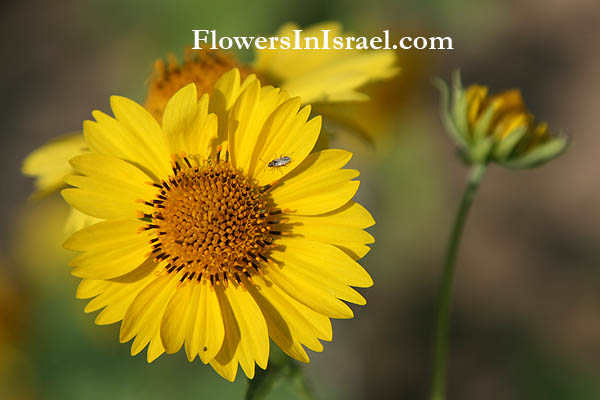 Life form:

Therophyte, annual

Stems:

30-150 cm tall, dull green, branching almost from the base; hairy with dense, short, white hairs; flower stem (peduncle) 25 cm long, leafless, erect

Leaves:

Opposite on lower stems and alternate towards the top; long-triangular, irregular teeth; dull green on top, whitish due to dense hairs on underside

Flowers:

Ray flower: ray orange-yellow, generally 8–10 mm, ± 3-lobed; disk flower: corolla 5–6 mm; anthers yellow to light brown

Fruits / pods:

Achene, inner achenes winged with a pappus of 2 bristles; seeds, dark brown becoming olive white

Flowering Period:

Summer

Habitat:

Disturbed habitats

Distribution:

Mediterranean Woodlands and Shrublands, Semi-steppe shrublands, Shrub-steppes

Chorotype:

American

Summer shedding:

ephemeral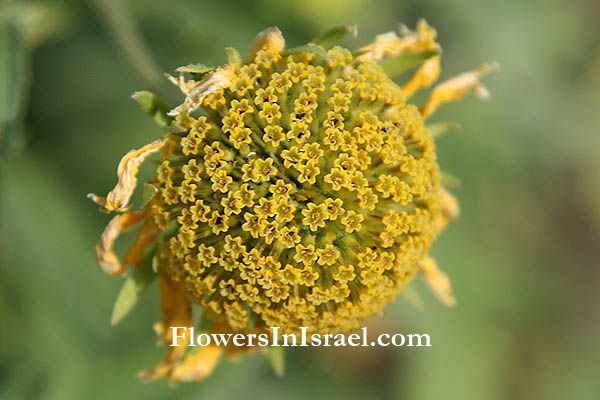 Derivation of the botanical name:
Verbesina from the resemblance of the leaves to those of Verbena.
encelioides, like Encelia; Encelia is named for Christoph Entzelt (1517 - 1583), a German naturalist, an early Lutheran clergyman who Latinized his name to Encelius and published a book called De Re Metallica in 1551 about mineralogy and metallurgy, and also wrote about the medicinal uses of animal parts and plants.
Ximenesia, in honor of Joseph Ximenes, a Spanish apothecary and botanist.
Crownbeard refers to the hairy inner seeds.
The hebrew name: knafon, כנפון, for the achenes are flattened and more or less winged (מכונפים).
The standard author abbreviation Cav. is used to indicate Antonio José Cavanilles (1745 – 1804), a Spanish taxonomic botanist.
The standard author abbreviation A.Gray is used to indicate Asa Gray (1810 – 1888), an American botanist.