Veronica panormitana, Palermo Speedwell,
Hebrew: ורוניקה קטנת-פרחים
Scientific name:

Veronica panormitana Tineo

Common name:

Palermo Speedwell

Hebrew name:

ורוניקה קטנת-פרחים

Plant Family:

Scrophulariaceae, לועניתיים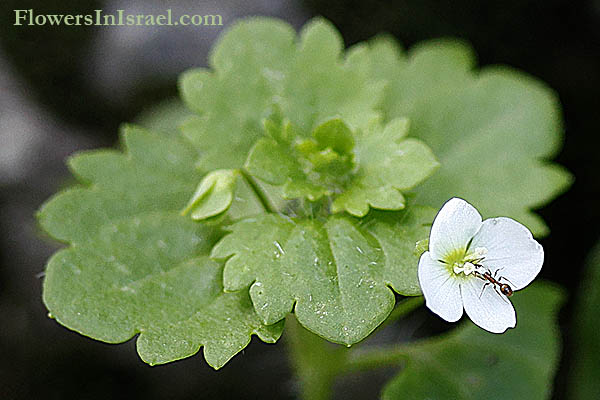 Location, Mukhraka-Keren HaCarmel
Life form:

Annual

Stems:

Erect, procumbent, or creeping; rounded stems

Leaves:

Alternate, opposite

Flowers:

White; hermaphrodite only; flowers are smaller than V. cymbalaria

Fruits / pods:

Capsule bare; seed coat patterns, reticulate-corrugate

Flowering Period:

January, February, March, April

Habitat:

Mediterranean maquis and forest, Disturbed habitats

Distribution:

Mediterranean Woodlands and Shrublands

Chorotype:

Mediterranean

Summer shedding:

Ephemeral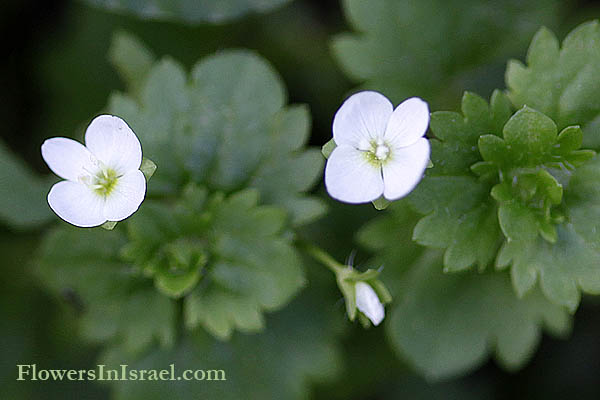 Location, Mukhraka-Keren HaCarmel



Derivation of the botanical name:
Veronica, named for Saint Veronica, the woman who gave Jesus a cloth to wipe his face while on the way to Calvary, and so named because the markings on some species supposedly resemble those on her sacred handkerchief.
panormitana (adj), panormi, Palermo, Sicily, Italy.
The Hebrew name: ורוניקה, Veronica , transliteration from the scientific name.
The standard author abbreviation Tineo is used to indicate Vincenzo Tineo (1791 - 1856) , an Italian botanist.