Vicia villosa, Vicia dasycarpa, Winter vetch,
Hebrew: ביקיה שעירה , Arabic: البيقية الموبرة
Scientific name:

Vicia villosa Roth

Synonym name:

Vicia dasycarpa Ten.

Common name:

Winter vetch

Hebrew name:

ביקיה שעירה

Arabic name:

البيقية الموبرة

Plant Family:

Papillionaceae, פרפרניים
Life form:

Stems

Stems:

Stems 50-200 cm in length; usually pubescent (covered with soft woolly fuzz)

Leaves:

Alternate, compound

Flowers:

Violet

Fruits / Pods:

Legume; oblong, flattened, obliquely beaked, 2 to 3 cm long and 7 to 10 mm wide; dark to light straw colored, and can be pubescent or glabrous; seeds, smooth, round, black

Flowering Period:

February, March, April, May

Habitat:

Batha, Phrygana

Distribution:

The Mediterranean Woodlands and Shrublands, Semi-steppe shrublands

Chorotype:

Euro-Siberian - Med - Euro-Turanian

Summer shedding:

Ephemeral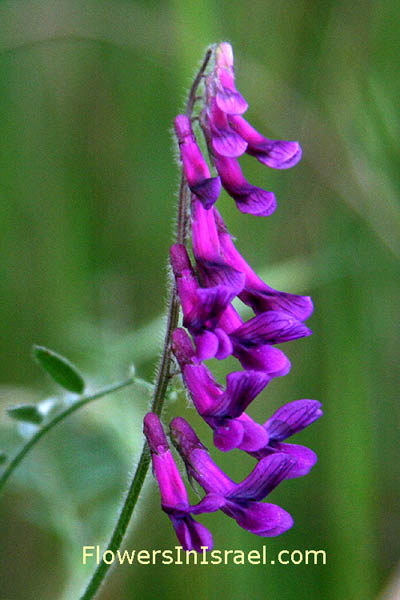 Derivation of the botanical name:
Vicia, vetch; the classical Latin name for these herbs, perhaps related to vincire to bind.
villosa, shaggy, hairy.
dasycarpa , Greek dasy δασυϛ, shaggy, thickly, markedly hairy; carpa, karpos, fruit; with shaggy fruits.
vetch, late 14c., from Old North French, veche, variant of Old French vece, from Latin vicia.
The standard author abbreviation Roth is used to indicate Albrecht Wilhelm Roth (1757 – 1834), a German physician and botanist.
The standard author abbreviation Ten. is used to indicate Michele Tenore (1780 – 1861), an Italian botanist.