Zygophyllum coccineum, Tetraena coccinea, Scarlet-flowered Bean-Caper,
Hebrew: זוגן אדום, Arabic: نبات الهرم، حماض، بطباط، رطريط

Scientific name:

Zygophyllum coccineum L.

Synonym name:

Tetraena coccinea (L.) Beier & Thulin

Common name:

Scarlet-flowered Bean-Caper, humaz, batbat, r'utrit

Hebrew name:

זוגן אדום

Arabic name:

نبات الهرم، حماض، بطباط، رطريط

Family:

Zygophyllaceae, Bean Caper Family, or Caltrop Family, משפחה זוגניים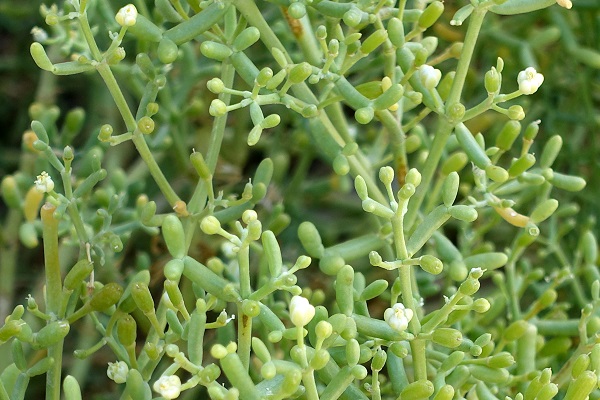 Life form:

Chamaephyte, much branched undershrub, up to 75 cm high, up to 100 cm wide

Spinescence:

Absent

Stems:

Much branched, woody at base with fleshy erect or ascending branches covered in spring with appressed, greyish hairs, later glabrous

Leaves:

Opposite, cylindrical, up to 14 mm long, 3-4.5 mm wide, fleshy, petiole up to 20 mm long, stipules triangular, herbaceous, 1×1.5 mm, pubescent.

Inflorescence:

Flowers solitary, axillary, pedicellate

Flowers:

Hermaphrodite only; sepals 5, rounded-obtuse at the apex, herbaceous, yellowish green, opovate, 4-6×2-3 mm, pubescent, aestivation imbricate. Petals 5, pale yellow , spathulate, 5-7×2-2.5 mm. Stamens 10, ovary superior, 5carpelled, 5-loculed covered with apressed pubescence.

Fruits / pods:

Schizocarp, cylindrical; seeds ovate, acute, and tuberculate

Flowering Period:

February, March, April

Habitat:

Desert, Thermophilous plants

Distribution:

Dead-Sea Valley, Southern Negev, Arava Valley

Chorotype:

Saharo-Arabian

Summer shedding:

Perennating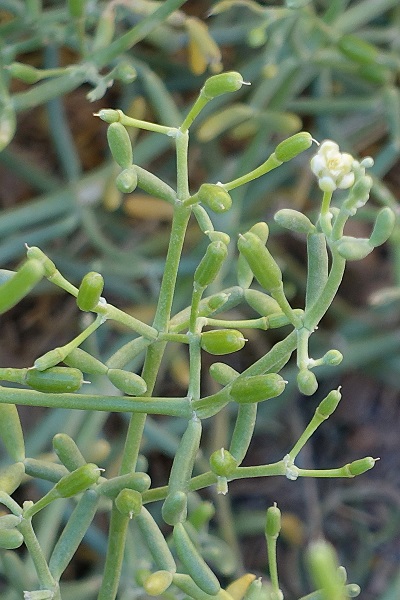 Derivation of the botanical name:
Zygophyllum, zygo (Greek), "joined, yoked"; phyllon, phyll, φυλλον, "leaf", foliage.
coccineum, deep red, from scarlet to carmin and crimson.
The Hebrew name: זוגן, zugan, from זוג, zug, pair, referring to the paired leaves of many of the species.
The standard author abbreviation L. is used to indicate Carl Linnaeus (1707 – 1778), a Swedish botanist, physician, and zoologist, the father of modern taxonomy.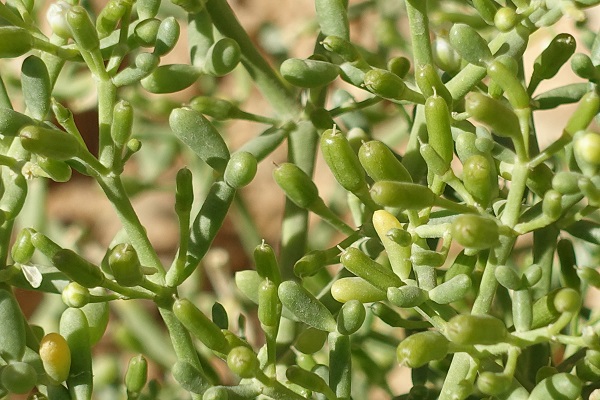 Location: Nahal Shani Riverbed (red Nubbian sandstone) in the Eilat Mountains.