Martha's exotic Backyard in Israel
Araucaria heterophylla, Araucaria excelsa, Norfolk Island pine,
Hebrew: אראוקריה קיפחת ,אראוקריה רמה, Arabic: أروكاريا متغايرة الأوراق
Scientific name:

Araucaria heterophylla (Salisb.) Franco

Synonym name:

Araucaria excelsa R.Br., Eutassa heterophylla Salisb.

Common name:

Norfolk Island pine

Hebrew name:

אראוקריה רמה

Arabic name:

أروكاريا متغايرة الأوراق

Family:

Araucariaceae, ancient family of coniferous trees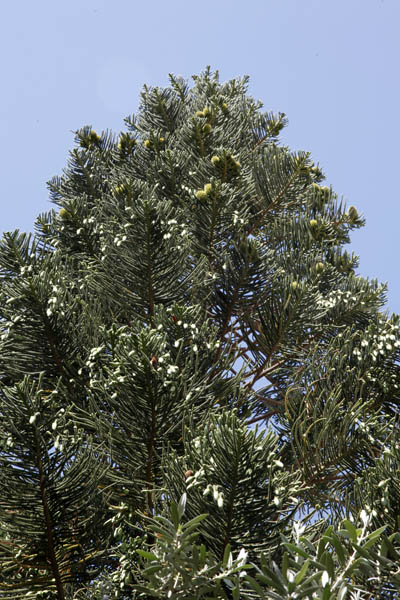 Life form:

A conical tree 50-70 m. tall, 1.25-1.75 m. in girth

Stems:

Bark gray-brown, exfoliating in fine scales; branches in a flat horizontal plane, sometimes pendent, branchlets in whorls of 4-7

Leaves:

Foliage dimorphic; juvenile leaves awl-shaped, incurved, green, needle-like, to 1.2 cm long; adult leaves scale-like, 4-5 mm long, incurved, densely arranged, bright dark green; on fertile branchlets overlapping, broadly ovate, spine-tipped, 6 mm long by 4-6 mm wide

Inflorescence:

May, June

Flowers:

Inconspicuous and not showy

Fruits / pods:

Male cones in clusters, elongated, 4 cm long, yellowish-brown or reddish; microsporophylls acute, margins ciliate, denticulate; female cones, usually high on top of the tree, are broader than long, 12-15 cm long, with triangular scales and a long incurved bract; seeds 2.5-3 cm long by 1.2 cm wide, with broad wings; cotyledons 4, epigeal

Flowering Period:

May, June

Distribution:

garden trees

Chorotype:

Norfolk Island (Australia), the island has an area of only 34 square kilometres and is home to the sole native species Araucaria heterophylla. This, however, only has a very small natural distribution area.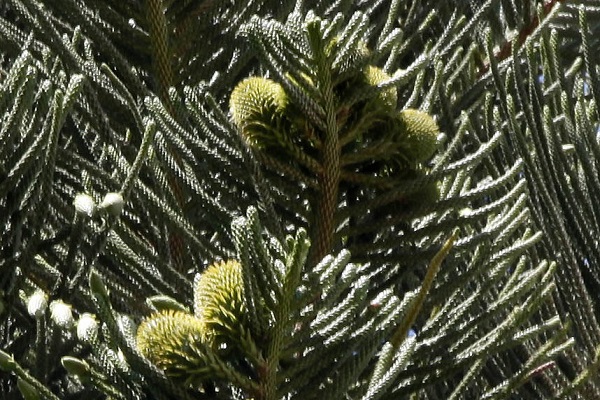 Female cones



Derivation of the botanical name:
Araucaria, named after the province of Arauco in South Chile.
heterophylla, diversely leaved.
The standard author abbreviation Salisb. is used to indicate Richard Anthony Salisbury (1761 – 1829), a British botanist.
The standard author abbreviation Franco is used to indicate João Manuel António Paes do Amaral Franco (1921 — 2009), a Portuguese botanist.
The standard author abbreviation R.Br. is used to indicate Robert Brown (1773 – 1858), a Scottish botanist and palaeobotanist
Female cones are produced on trees older than 15 years and male cones on trees older than 40 years.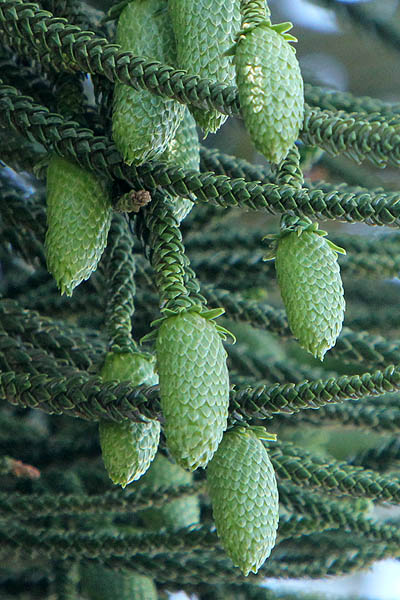 Male cones