Commelina communis, Asiatic dayflower, Widow's Tears,
קומלינה , דמעות האלמנה

Scientific name:

Commelina communis L.

Common name:

Asiatic dayflower, Widow's Tears

Hebrew name:

קומלינה, דמעות האלמנה

Family:

Commelinaceae, קומליניים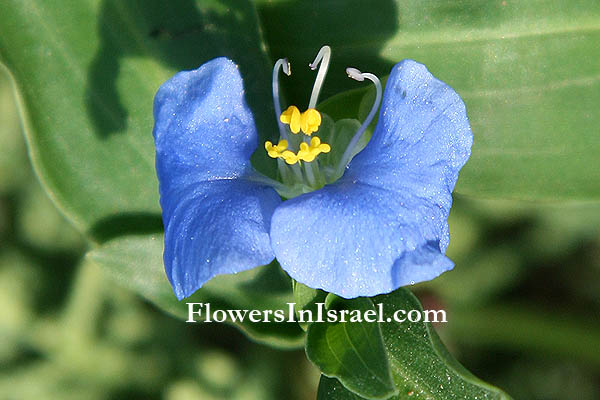 Life form:

Herbaceous annual plant

Stems:

Decumbent, glabrous basally, puberulent towards the extremities; diffusely branched

Leaves:

Lanceolate, or lance-shaped, to ovate-elliptic, between egg-shaped and ellipse-shaped.

Inflorescence:

Often bracted; many inflorescences; a single inflorescence usually has 4 flower buds per bract; single flower opens at sunrise each day and lasts until noon

Flowers:

Actinomorphic; 3 petals, upper 2 petals round, bright blue; lower petal much smaller, white, notched into 3 rounded lobes; 3types of stamen: 2 long brown stamens, 1 medium-lenght yellow stamen, 3 short yellow stamens;

Fruits / pods:

Capsule, dehiscent, 2-valved, ellipsoid with 2-locular; glabrous, brown; seeds brown, brownish-yellow; rugose pitted-reticulate

Flowering Period:

July, August, September

Habitat:

Cultivated Beds

Origin:

E. Asia - S. China, Japan, India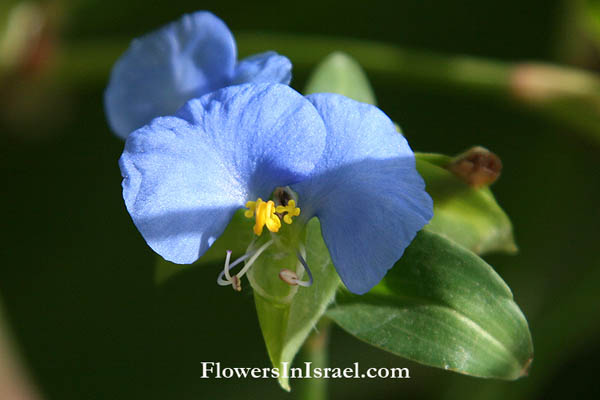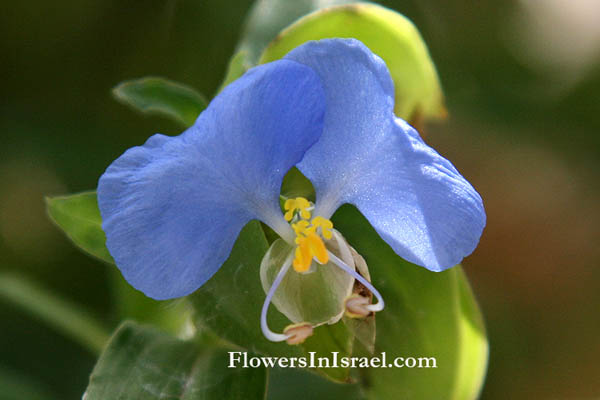 Derivation of the botanical name:
Commelina, in honour of the Dutch botanists Jan (1629 – 1692) and Caspar Commelijn (1668 - 1731), using the two large showy petals of Commelina communis to symbolise them.
communis, common.
The standard author abbreviation L. is used to indicate Carl Linnaeus (1707 – 1778), a Swedish botanist, physician, and zoologist, the father of modern taxonomy.