Dracaena draco, Canary Island Dragon Tree, Drago, Dragon Tree,
עץ הדרקון

Scientific name:

Dracaena draco (L).L.

Synonym name:

Asparagus draco L., Dracaena ombet Kotschy & Peyr., Yucca draconis L.

Common name:

Canary Island Dragon Tree, Drago, Dragon Tree

Hebrew name:

דרקנה קנרית , דרצנה קנרית, עץ הדרקון

Family:

Ruscaceae (Dracaenaceae)
Life form:

Tree

Stems:

Trunk up to 12 m tall; trunk branches dichotomously (repeated branching into two equal parts) after flowering; a reddish resin, Dragon's Blood, exudes from damaged bark

Leaves:

Dense umbrella-shaped canopy of thick swordshaped leaves

Inflorescence:

Terminal panicle of greenish-white flowers

Flowers:

Greenish-white flowers

Fruit:

Orange berries

Flowering Period:

Summer

Origin:

Canary Islands, Cape Verde, Madeira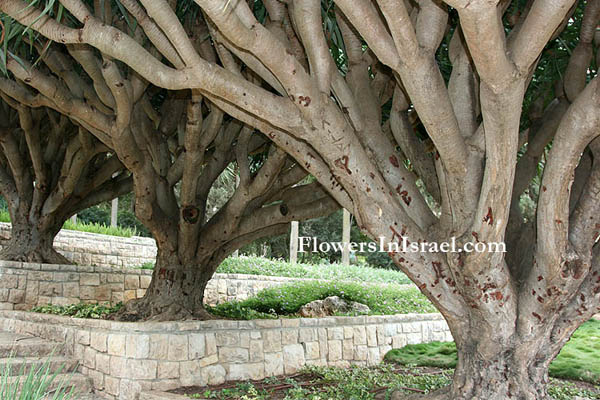 Ramat Hanadiv, Memorial Gardens, רמת הנדיב , גני הזיכרון



Derivation of the botanical name:
Dracaena, Greek, drakaina, a female dragon; an alternative theory suggests that the genus ia named after Sir Francis Drake (1545-1596), a British explorer, slave-trader, privateer (a pirate working for a government) in the service of England, mayor of Plymouth, England, and naval officer (he was an Admiral).
draco, draco, δρακων, οντοϛ, serpent, snake, dragon; dragon.
Asparagus, an ancient Greek name for the plant.
ombet, is a vernacular name of the species in the Bedani language of the Sudan.
Yucca, from the Carib name for manihot or cassava, a genus belonging to the Euphorbia and erroneously used to these liliaceous evergreen shrubs or small trees with rosettes of sword-shaped leaves.
draconis, Greek draconis, dragon.
The standard author abbreviation L. is used to indicate Carl Linnaeus (1707 – 1778), a Swedish botanist, physician, and zoologist, the father of modern taxonomy.
The standard author abbreviation Kotschy is used to indicate Carl Georg Theodor Kotschy (1813 – 1866), an Austrian botanist.
The standard author abbreviation Peyr is used to indicate Johann Joseph Peyritsch (1835 – 1889), an Austrian physician and botanist.