Ocimum basilicum, Sweet basil, Holy basil,
Sacred basil, בזיליקום, ריחן, الريحان

Scientific name:

Ocimum basilicum L.

Common name:

Sweet basil, Holy basil, Sacred basil

Hebrew name:

(rehan) בזיליקום, ריחן

Arabic name:

al-raihan, الريحان

Family:

Labiatae / Lamiaceae, Mint Family, שפתניים
Life form:

Annual

Stems:

Up to 75cm tall, 4-angled, glabrous or sparsely hairy, branching, herbaceous, strongly aromatic

Leaves:

Opposite, simple, ovate to oblong-ovate, entire or slightly toothed margin

Inflorescence:

Whorld flowers in a terminal spike

Flowers:

Hermaphrodite; bilabiate (two-lipped) (Botany), small white

Fruits / pods:

Nutlets, smooth or somewhat rugose

Flowering Period:

August, September

Habitat:

warm and moist

Distribution:

cultivated

Chorotype:

native to India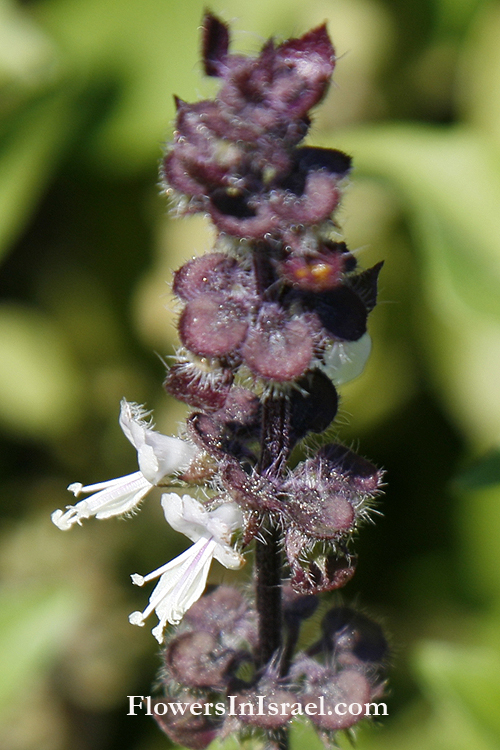 Derivation of the botanical name:
Ocimum, Greek okimon used by Theophrastus (370 — ca. 285 BCE), and Dioscorides (ca. 40 - ca. 90) and Galenus (129 – 199/217 CE) for an aromatic herb, basil. Latin ocimum (Plinius) for a herb which serves for fodder.
basilicum, basileus Greek βασιλεύς, royal or king, because of the royal fragrance of this herb; related word basilica Basiliké Stoà, Royal Stoa, the tribunal of a king.
Names like German Königskraut and Dutch koningskruid "king's herb" are probably calqued from the Greek name.
The standard author abbreviation L. is used to indicate Carl Linnaeus (1707 – 1778), a Swedish botanist, physician, and zoologist, the father of modern taxonomy.
See the list of Medicinal herbs in Israel, the parts used and their medical uses to treat various diseases.

BIBLICAL REFERENCES:
Ocimum basilicum is not specifically mentioned in the Bible, but it is thought to have been known to the ancient Israelites.
QURANIC REFERENCES:
Surat Ar-Rahman, 55th sura, Verse 12, 13: Therein are fruits, date-palms producing sheathed fruit-stalks (enclosing dates). And also corn, with (its) leaves and stalk for fodder, and sweet-scented plants.
Surat Al-Waqi'a, 56th sura, Verse 88, 89: Thus, then, if he be of those Nearest to Allah, (there is for him) rest and satisfaction and a Garden of Delight.