Stephanotis floribunda, Madagascar Jasmine, Bridal Bouquet,
Waxflower, סטפנוטיס רב-פרחים

Scientific name:

Stephanotis floribunda Thouars

Common name:

Madagascar Jasmine, Bridal Bouquet, Waxflower, Hawaiian Wedding Flower

Hebrew name:

סטפנוטיס רב-פרחים

Family:

Asclepiadaceae, Milkweed family, אסקלפיים
Life form:

Vine

Stems:

can grow to perhaps 4.5 m

Leaves:

Evergreen, opposite, leathery, elliptic

Inflorescence:

Umbels of large flowers along the stem

Flowers:

White, waxy blooms; 5 connate sepals; 5 petals, connated in a funnel-shaped corolla

Fruits / pods:

Follicles 7-10 cm long

Origin:

Madagascar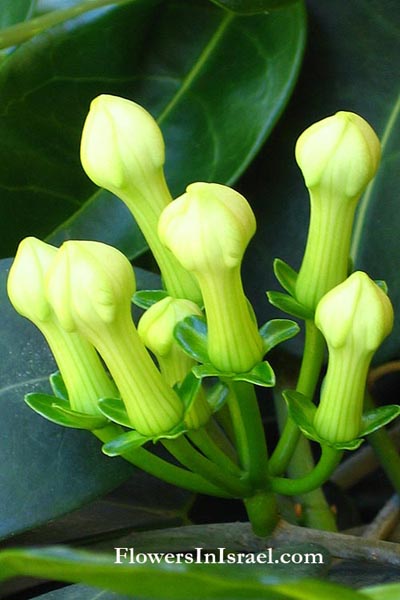 Derivation of the botanical name:
Stephanotis, stephonos, crown; otos, ear; a 'crown of ears', in reference to the auricles in the staminal crown.
floribunda, profusely flowered.
The standard author abbreviation Thouars is used to indicate Louis-Marie Aubert du Petit-Thouars (1758 – 1831), a French botanist.
The flowers are long lasting and sweetly scented. They are a favorite in bridal bouquets.