Life form:

Deciduous tree up to 8 meters

Stems:

bark is brownish grey, tough and hard to peel.

Leaves:

Opposite, petiolate, elliptic and lanceolate, with lightly serrated margins and pinnate venation; leaves palmately compound with usually 5 leaflets.

Inflorescence:

Flowers arranged in clusters

Flowers:

Large, tubular shaped, corolla is often pink or magenta, though exceptionally seen white, about 2 inches long. There are four stamens and a staminode

Fruits / pods:

Capsule containing several winged seeds.

Flowering Period:

March, April

Origin:

Argentina, Paraguay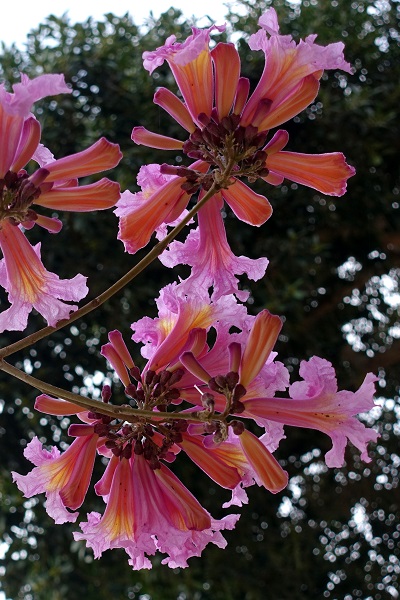 Derivation of the botanical name:
Tabebuia, a native Brazilian word meanong "ant wood," as ants live in the hollow dead twigs.
impetiginosa, referring to medicinal use, specifically for impetigo.
The standard author abbreviation Mart. is used to indicate Carl Friedrich Philipp von Martius (1794 – 1868), a German botanist and explorer.
The standard author abbreviation DC. is used to indicate Augustin Pyramus de Candolle (1778 – 1841),a Swiss botanist.
The standard author abbreviation Standl. is used to indicate Paul Carpenter Standley (1884 – 1963), an American botanist.
The standard author abbreviation Mattos is used to indicate Joáo Rodrigues de Mattos (born 1926), a Brazilian botanist.
The pink ipê is the national tree of Paraguay.
This plant holds great promise for the effective treatment of cancers such as leukemia, candida and other troublesome infections, debilitating diseases (including arthritis), as well as a host of other complaints.